Perkins brailler braille machine servicing
Here at EYECAN we service and repair perkins braillers.
www.eyecan.org.uk/servicing
We have been servicing perkins braillers since 2009, which was when EYECAN was first established, before this our engineer Alan was trained by staff at the RNIB in their service centre.
We buy and sell second user perkins, service and repair the traditional or classic perkins.
Unfortunately I am sorry to say that we are not equipped to work on the newer plastic machines.
We are happy to give a free estimate for the cost of your machine's repair; however, most repairs have a minimum service charge of £25.
If we are not able to repair your machine there is no charge.
For the remainder of the 2016 – 17 financial year we will service and clean your perkins brailler for this price, unfortunately from April 2017 we are going to have to increase our service charge to £35 to cover the cost of maintaining our new workshop and cost of oils and cleaning products.
All our prices are plus vat.
If you need a postage label please request one, by emailing
We are also happy to visit your centre to undertake a day servicing for a special event you may be holding.
You can invite braille users to bring their machine for an on the spot service.
Spaces for these events are limited, dependant on how long the event is open.
Machines that are serviced do work much better, paper scraps and dust does impede on how your machine responds to key presses.
Over the years, we have found paper scraps, broken glass, Lego and other building bricks, pin board tacks, pens and glue sticks just to mention a few.
Oh and yes one mum was so happy when we returned 9 hair bands.
We hold quite a range of new and second owner spare parts.
However, we are starting to find it difficult to find machines that we can use for spares, we would be happy to talk over buying old non-working machines to use for spares.
New parts are quite expensive as they have to be shipped from America, both costly in time and money.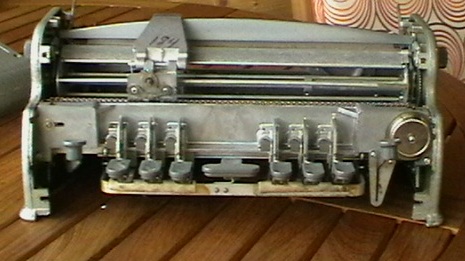 Packing a Perkins Brailler for posting
Tips for packing your Perkins to EYECAN.
Firstly, the wooden case that is made to transport a Perkins in is too heavy for the free post service.
Somehow when the weight was being calculated the cost of the case designed for posting the machine was not taken in to account.
The limit is 7KG.
So, find a strong card box, put in a layer of bubble wrap or screwed up paper, and then put the machine in the box.
Now put some more packing around the machine, ensure to protect the paper roller knobs, these do get smashed in the post if not protected.
Pack the top of the machine up to the level of the top of the box.
Please remember to include a note with a return address and any problems you may be having with it.
Now this can be a problem if the machine will not write.
So, put an object in the box or tie a ribbon around the handle, and let me know the details in an email
If you are also able to include a telephone number, we can call you if needed.
Do not pack your machine with shredded paper, expanded foam balls or small items that will find their way in to the machine.
Ok the service will clean these out but what do I then use to return the package to you, I have limited packing materials.
I hope this gives you some tips but if you need to find out more email
or telephone 0114 220 7007 or 07961 406739
We try to have your machine back with you within a working week, however this does also depend on the postal service, and holidays.
Last thought.
Please remember that the post office has the right to open the package to ensure that only the items stated in the rules for this service are sent.
Which are equipment or materials designed for the blind.
You cannot send items that have not been specially produced or modified.
With this document, you should also have received a free post label to print and fix to your packaging.
You should enter your own details on the section that requests the return details if undeliverable, and there does have to be a named person on the TO: side of the address, otherwise the package will be eligible for the full cost of postage.
Full details about the ARTICLES FOR THE BLIND FREE POST service can be found on the post office website or by looking it up on the internet.